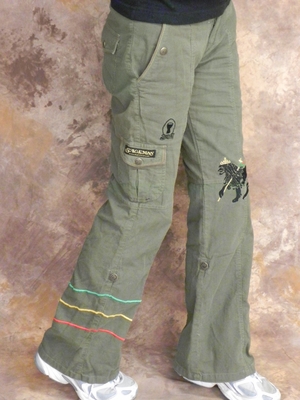 Click Any Image To Enlarge
Women's Pants
w/Rasta Piping

Hey ladies... Now we have soft cotton cargo pants just for you. Embroidered Lion of Judah on the left knee and wide rasta embroidery on the right leg.

Pants have a medium rise with a flare leg, and can be converted to capris with the handy flaps on the inside of the leg. Flaps attach to the stylish Sageman buttons on either side of the legs, below the knees.

sizes
o = 23 waist 30 length
1 = 25 waist 30 length
2 = 27 waist 30 length
3 = 29 waist 30 length
4 = 31 waist 30 length


Colors available
Army
Camo

Double stitched, with triple rasta stitching on al the pockets. Back pockets have flaps with our Sageman snap. Front pockets also have a snap.

Zipper front with a double button waist. Velcro straps are on either side of the waist for easy cinching for those of you who are in between sizes.