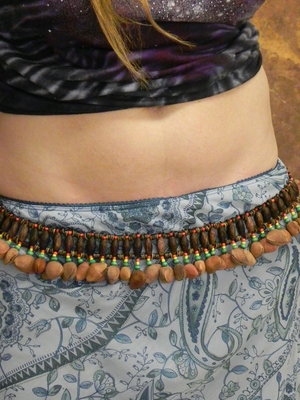 Click Any Image To Enlarge
One Size Fits All
Hey gals.... add this Waist Rattle to your percussion stock. No hands needed here, just tie around your waist and shake shake shake! Get a little exercise while you are at it. This belt features lovely wooden beads woven together by a heavy string. The string is braided several inches on either end for tying.

Belt measures approx. 35" with about 6" ties on each end.

Sageman provides a 90-day limited warranty on all Sageman Drum products. All warranties cover quality and craftsmanship but abuse, neglect, and damages caused by any person in incident are not covered. If there is a defect found in any Sageman Product during the first 90 days f ownership, return to Sageman Drums for replacement.